Modes of Operation

Manual Mode
Supplied with visual digital timer up to 999 minutes which is suitable in emergency operation in the absence of untrained user, or can be operated as pre-heat mode.

Servo Mode
Servo with Microprocessor controls, supplied with Dual digital display for Skin & Ambient Temp i.e.

a) Set Temp Display.
b) Actual Temp Display.

Technical Specification
* Voltage Required : 220V AC. 50 Hz
* Heater Output : 600 Watts
* Fuse : 5 Amp.
* Gross Weight : 35Kg Approx.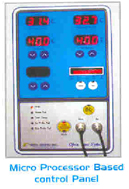 Safety Alarm
a) Heater Foil
b) High temperature cut off.
c) Infant temperature high.
d) Probe Fail.
e) Power Fail.

Salient Features
* SERVO with Microprocessor controls.
* Emergency MANUAL Operation Mode.
* Skin /Air P.T.-100 Sensor.
* Rotating Head for taking X-Ray without lifting the Baby
* ceramic Radiant heater is provided to prevent humidity loss
* Alarm Mute Facility
* Heater Percentage barograph.
* Attached Baby Cradle with foam mattress.
* Mounted an easy roll-on castors.
* totally Epoxy Coated Finish.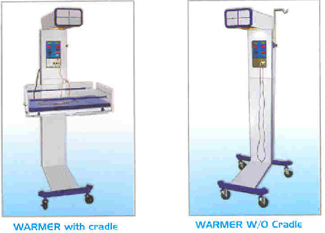 Available with the Choice of attached:
1. Baby Bassinet or Separate Baby Trolley
2. Slow suction for Infants.
3. Under Surface Phototherapy.
4. Electronic baby weighing Machine
5. Oxygen Supply Attachments.

i. Oxygen cylinder clamp
ii. Flow Meter
iii. Rota Meter
iv. Humidifier Bottle
v. Ambu Bags

6. C-PAP Unit
7. Bi-PAP Unit
8. Monitor tray
9. Drawers for Keeping material
10. Under shelf